Are you looking for more motivation to walk/run? Are you looking for a way to make your next walk/run count for a cause you love? Raise funds and awareness for Shin Shin Educational Foundation by staying active and safe.
We had an exciting visit from the Shin Shin Educational Foundation yesterday to deliver a donation of 20,000 surgical masks, 200 KN90 masks and 320 face shields. They were joined by Silicon Valley Youth who contributed an additional 5000 surgical masks and 200...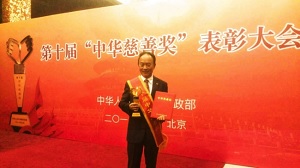 On a crisp autumn day in Beijing, 13 th September 2018 was a proud and exciting day for all volunteers, friends, officials, teachers, and students of ShinShin Education Foundation. The Ministry of Civil Affairs praised Shin Shin and awarded the foundation the highest and the most important China Charity Award during the tenth China Charity Award ceremony in the majestic Great Hall of the People. ShinShin Education Foundation volunteers in America and China along with another twenty-seven individuals and charities were rated as Models of Chinese Charity.
OUR MISSION
Improve learning environment , provide professional training, and promote balanced development of urban and rural education in China.
Donate
Shop at AmazonSmile
SUPPORT SHIN SHIN
It takes ten years to grow a tree, but a hundred years to educate a person; Every pass shall leave footprints; Every effort shall have an impact.
Welcome to Join Us